Back to
the Classroom
Keep in-school learning safe with our K-12 SARS-CoV-2 (COVID-19) Testing Program
Through our Back to the Classroom program, Quest Diagnostics® will work with you directly to define, develop, and implement an ongoing plan to help your K-12 students, staff, and faculty members manage their risk of COVID-19 exposure in order to safely remain in school.
Get program details
Easy-to-use, comprehensive, turn-key program
Quest Diagnostics understands how important daily in-person learning is for social, emotional, and behavioral health. We can help you develop an in-school solution for testing and supply mitigation strategies that will allow your staff and students to continue learning in person.
Our Back to the Classroom program offers:

Standardized protocols designed to quickly identify asymptomatic staff and students

In-school/at-home collection kits

Step-by-step program implementation guide

Video training and expert support

Educational videos and materials for parents and students

Rapid, online results reporting
Contact us to get started
Fill out the form below to be contacted by one of our representatives and learn how we can work together to help your staff and students stay in school.
Our 2-step testing strategy
1
Weekly screening for everyone

High-quality "pod-pooled" molecular swab tests can rapidly sample school populations to reduce the likelihood of asymptomatic spread.
2
Follow-up testing for positive pod results

For confirmatory testing, members of positive pods use a home self-collection kit that is sent to a lab and tested to help determine next steps.
What is pod-pooled testing?
Pod-pooled testing refers to testing for infection in small groups to uncover any current infections. A collection of up to ten samples, in this case nasal swabs, is tested at the group level instead of the individual level. Because testing is performed on a pooled sample, testing is extremely cost-effective, and may be ideal for school-based environments, offering quick results to assess risk.
Pod-pooled testing is for surveillance only. Positive pods require follow-up diagnostic testing.
How does the program work?
Students will be instructed on how to use a simple and safe method to test themselves. They will collect their own samples via a simple nose swab. Those samples, along with those from their classmates and teachers, will be "pod-pooled" to conduct the lab tests and return the results quickly.

Prepare your school
Communicate testing program to parents and staff
Collect parent opt-in for testing/collecting consent
Develop testing pods
Here are just two examples of the support materials you'll receive to help implement our testing program.
How-to Video Grades K-4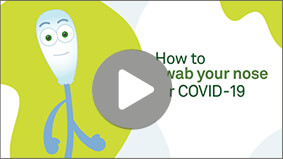 How-to Comic Book Grades 5-8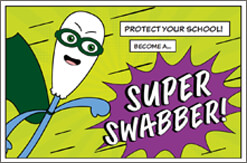 VIEW

Quest prepares your tests
We generate testing requisitions and labels
Then assemble Back to the Classroom testing boxes
And deliver testing boxes to school

Collect test samples
Teacher/administrator instructs students on self-swabbing
Students give swab to teacher
Teacher places all swabs inside single tubes
Tubes collected at single point within school

Quest processes the tests
Logistics pickup to transport samples to Quest
Our lab performs pod-pooled test
Pod level results made available to school

Test results are delivered
Positive pods notified; diagnostic testing is offered
For positive cases, initiate the necessary treatment, isolation, and contract tracing protocols

Quest is the leader in COVID-19 diagnostic testing
Quest has processed tens of millions of COVID-19 tests to date, completing more testing nationwide than any other lab. We are constantly expanding and improving our testing capacity across the country. And our fast, accurate results empower you to make better health decisions for your school.
Explore our other testing programs
COVID-19 testing statements
No laboratory test is 100% accurate; the ability of a test to perform according to its specifications is subject to a number of factors including specimen handling, stability, timing of the specimen collection in relation to onset of the infection, and the instrumentation and system on which the test is performed.
The symptoms of COVID-19 may at times mimic other illness such as influenza and the common cold. It is important that those with symptoms are tested for the correct illness, and, where atigen testing is performed, that positive results in asymptomatic persons be sent for further confirmatory tests and medical consulation.
The self-collection kit is intended for surveillances purposes, and is not intended for screening or diagnostic uses subject to FDA regulation. This test should be used on a population-based level and should not be used by healthcare providers for patient care.